The Magic of Furniture Salve
The Magic of Salve! What is it about this little tin that has the internet buzzing? Perhaps you've seen our viral Tiktok (25M+ views) using Furniture Salve on leather? Or even a greater viral presence on Instagram Reels (50M+ views) demonstrating the use of salve on leather, wood and even taking scratches out of a truck taillight. We use this stuff almost every day!
But what makes it so wonderful???
The magic is in the tin, but it's also in the maker. Wise Owl Paint out of Michigan is ran by an incredible female duo, Erin & Karen. The "Furniture Salve" was created in Karens kitchen (where all the best things are invented) and it's been selling like hot cakes ever since. The salve is made with a base of cold-pressed hemp seed oil and mixed with natural waxes and fragrance to create little tins of awesome. The cold-pressed hemp seed oil has anti-microbial, anti-fungal and anti-bacterial properties that get to work once applied to your furniture - which is why it's so great at helping to get rid of funky smells. It doesn't mask them, it eliminates them.
(There is an unscented option too, best for those sensitive to scents and for our furry friends).
What sets Furniture Salve apart from other furniture products is its versatility. You can use it on a wide range of surfaces, including wood, metal, leather, and even stone. It's perfect for everything from tables and chairs to cabinets and dressers.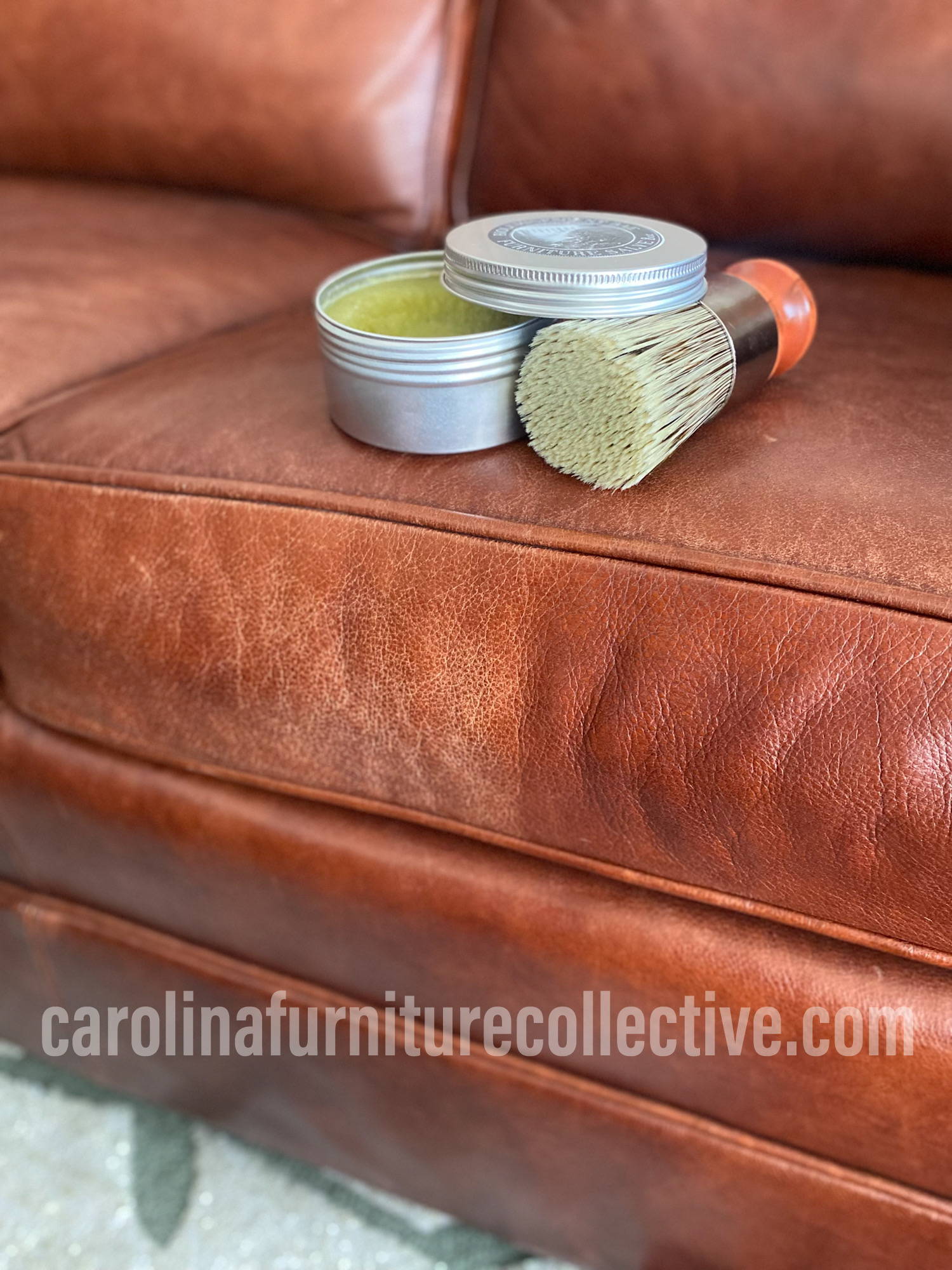 Using Furniture Salve On Leather
A simple solution to keeping your leather investment in tip-top shape is to apply the salve every six to eight months. Doing so will keep the leather supple and protect it from common problems like cracking. If you use Instagram, we demonstrate how to use it HERE
Rub the salve in with a brush or microfiber cloth and let it soak in - at least an hour before use. Test for absorption by wiping the area with a cloth.
If your leather needs cleaned, we recommend cleaning by using a barely damp microfiber cloth (use warm water and just a drop of dawn dish soap) - let the leather dry completely before applying the salve. n example would be this water stained leather bag, watch this Reel on Instagram to see the process.
If you are using salve on very sun bleached leather (see video below) you will notice color rejuvenation with the added moisture provided by the salve. The salve is not color specific and is not tinted to match any color of leather. Oil based products like this are not recommended for suede or suede type leather like nubuck. It is also recommended to do a test area (back of a cushion) before applying to entire surface, especially on lighter or white leather.
Using Furniture Salve On Wood
Using Furniture Salve to help remove water marks and fine scratches have been some of our most watched content. Why? Because these common problems resonant with many. There is nothing worse than thinking you've ruined a piece of furniture because of a water ring or scratch. Fortunately, Furniture Salve can often help with those imperfections and is a much simpler, safer and less time consuming option than full restoration. Another great thing about Furniture Salve is that it's environmentally friendly. It's made with all-natural ingredients and contains no harsh chemicals or solvents. So, you can feel good about using it in your home and around your family.
We get asked often about Furniture Salve helping with spills from nail polish remover, essential oils and leaky wall plug-ins. Unfortunately those type of spills and stains have a bleaching effect on wood and the Furniture Salve would not be a good fit in those situations.
Our best tip to help with water marks, water rings and scratches is to apply the salve with a pad of fine steel wool (grade #0000). The slight abrasion combined with the oil and restorative properties in the furniture salve work well together to help fix problem areas. We have demonstrated this time and time again on Instagram, Youtube and TikTok.
For general restoration and care of wood pieces simply apply a small amount of furniture salve to a soft cloth or salve brush and rub it into the surface of your furniture in a circular motion. Then, buff the surface with a clean microfiber or lint free cloth to bring out the shine. The results are amazing! Your furniture will look like new again, with a rich, deep color and a beautiful shine. In addition to its amazing restorative properties, Furniture Salve also provides long-lasting protection against everyday wear and tear. It helps to repel water and other liquids, preventing stains and damage from spills. It also protects against scratches and other types of damage, keeping your furniture looking beautiful for years to come.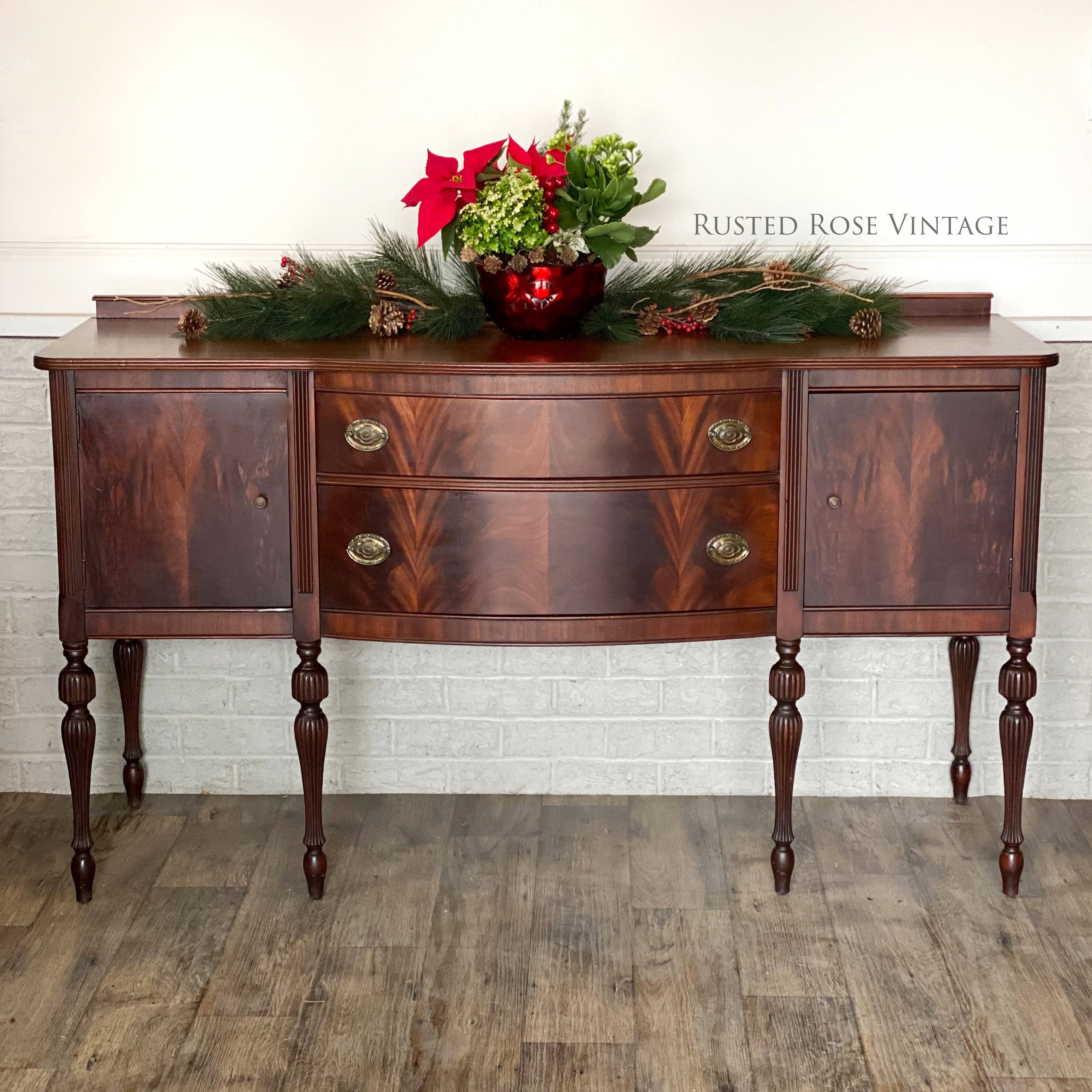 How to store your brush between uses? We have found the best way to store your brush without cleaning is to keep it in a ziplock bag or airtight container. If you prefer to clean it in between uses, warm soapy water will do the trick. Bad Ace brush soap on our website is gentle on bristles, dish soap will work as well. Let it dry completely before using again.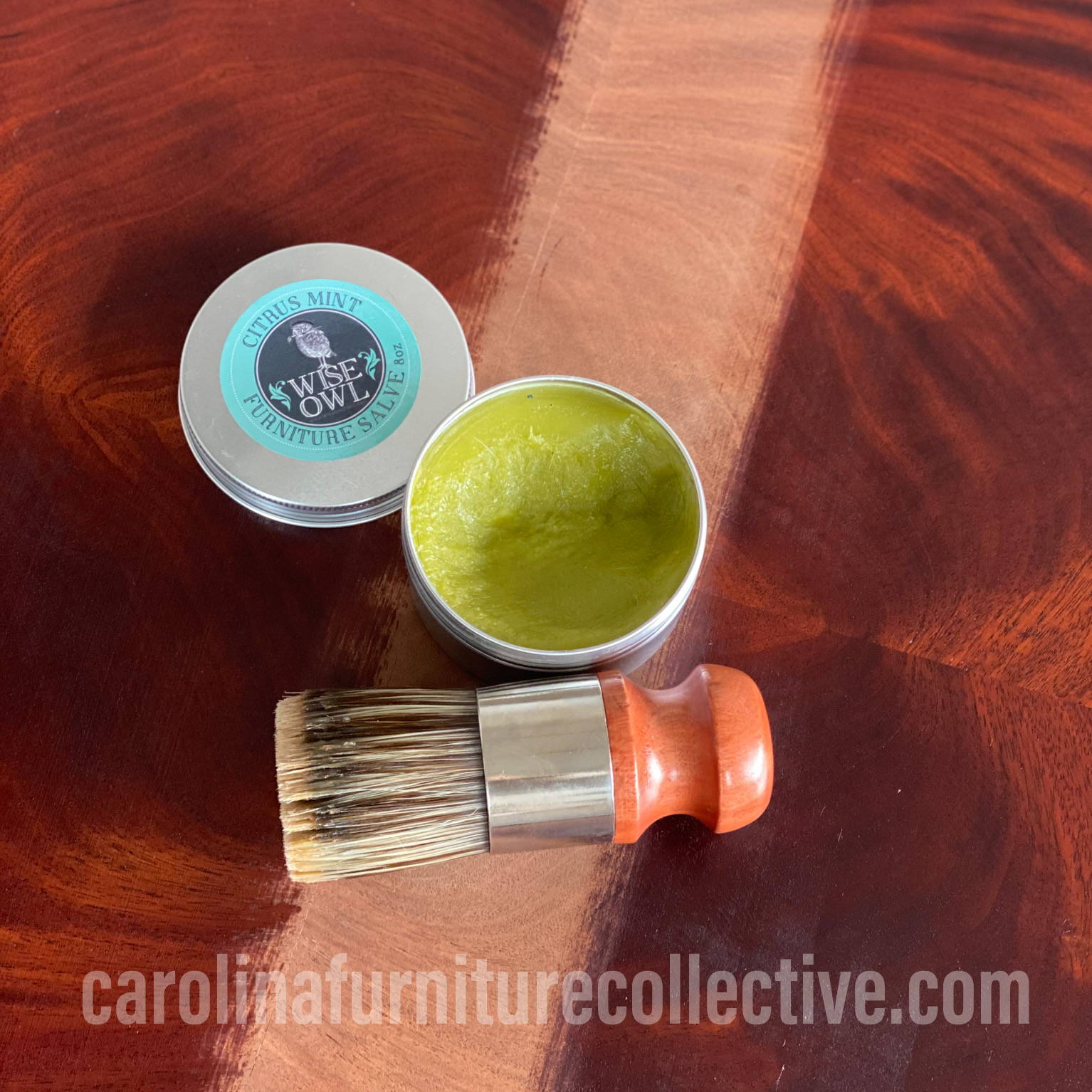 Is that more than you ever wanted to know about Furniture Salve? Here is one more funny bit about this viral product. Due to audio clips used in social media, we have found searches for "Regina" on our site along with "Couch Balm", "Couch Wax", "Couch Cleaner", "Couch Lotion". It really helps us understand that captions and product links can sometimes get overlooked despite our best efforts in making the product name "Furniture Salve" front and center. Have you searched for one of these items? If so, we're happy you found us!
Here is a look at some of our customers transformations using Furniture Salve. We're always amazed at the results and thankful for all the shares and feedback!