Elevate Your Outdoor Space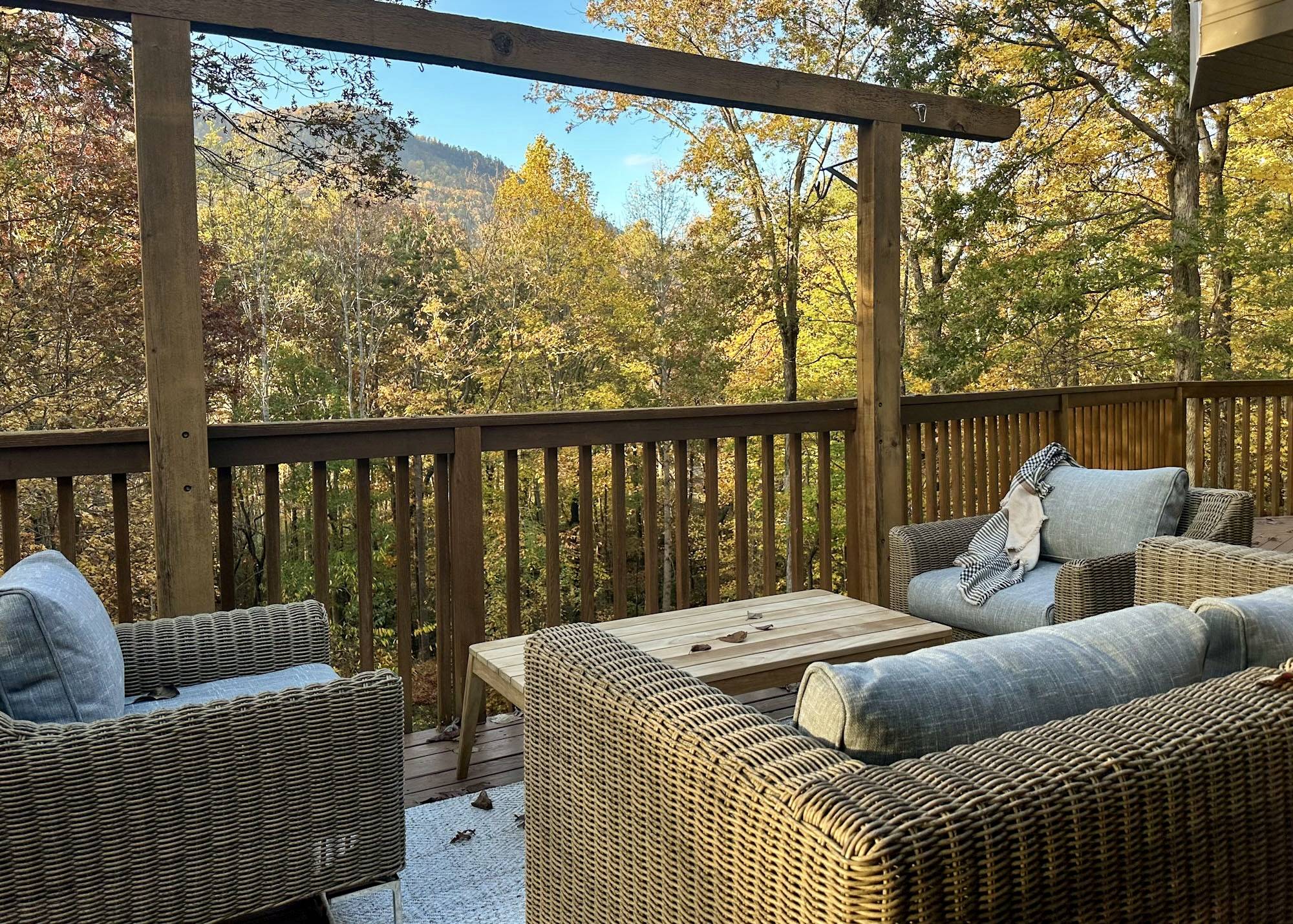 We know a thing or two about quality furniture. Over the years, we've refinished or restored hundreds of pieces. We lean into vintage and antique furniture as often as we can because of the quality and craftsmanship. Additionally, we believe it's better for the environment to repurpose and reuse furniture instead of adding to a landfill. However, when we were looking to furnish our outdoor space, vintage furniture fell short. Thankfully, we discovered Outer; they hit the nail on the head with vintage style and environmentally friendly outdoor furniture. We know when it comes to creating the perfect outdoor retreat, the choice of furniture can make all the difference. The outdoor space at our cabin, nestled in the beautiful mountains of North Carolina, deserved furniture that is comfortable, luxurious and durable. Outer, a brand known for its commitment to quality, sustainability, and comfort, has taken outdoor furniture to a whole new level with their all-weather wicker patio furniture - timeless design, perfect for our space. In this blog post, we'll explore why this furniture collection is truly exceptional and why it should be the centerpiece of your outdoor space.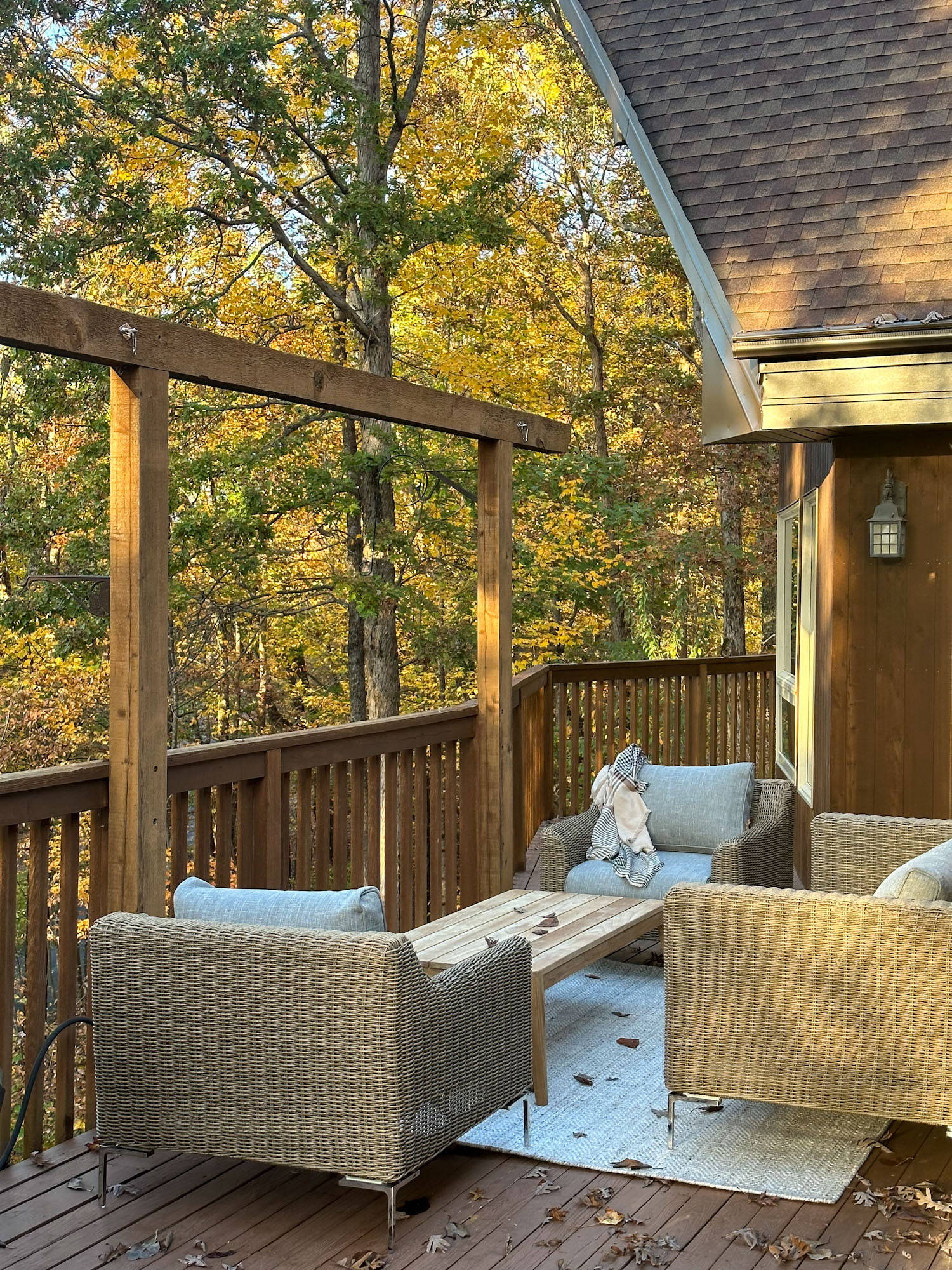 Quality that stands the test of time
One of the first things you'll notice about Outer's outdoor patio furniture is its exceptional quality. Crafted with precision and attention to detail, this collection is designed to stand up to the elements and the test of time.
All-Weather Wicker: Outer's wicker is expertly woven to withstand rain, sun, and even salty coastal air. It won't fade, crack, or peel, ensuring that your furniture looks as stunning as the day you brought it home, even after years of use.




Durable Frames: The frames are constructed from rust-resistant aluminum, ensuring they won't corrode or weaken over time. This sturdy foundation provides lasting support and stability for your seating.




UV-Resistant Cushions: The Pacific Fog Grey cushions we chose not only add a touch of elegance to your outdoor space but are also designed to resist fading from the sun's harmful UV rays.



Sustainability at its core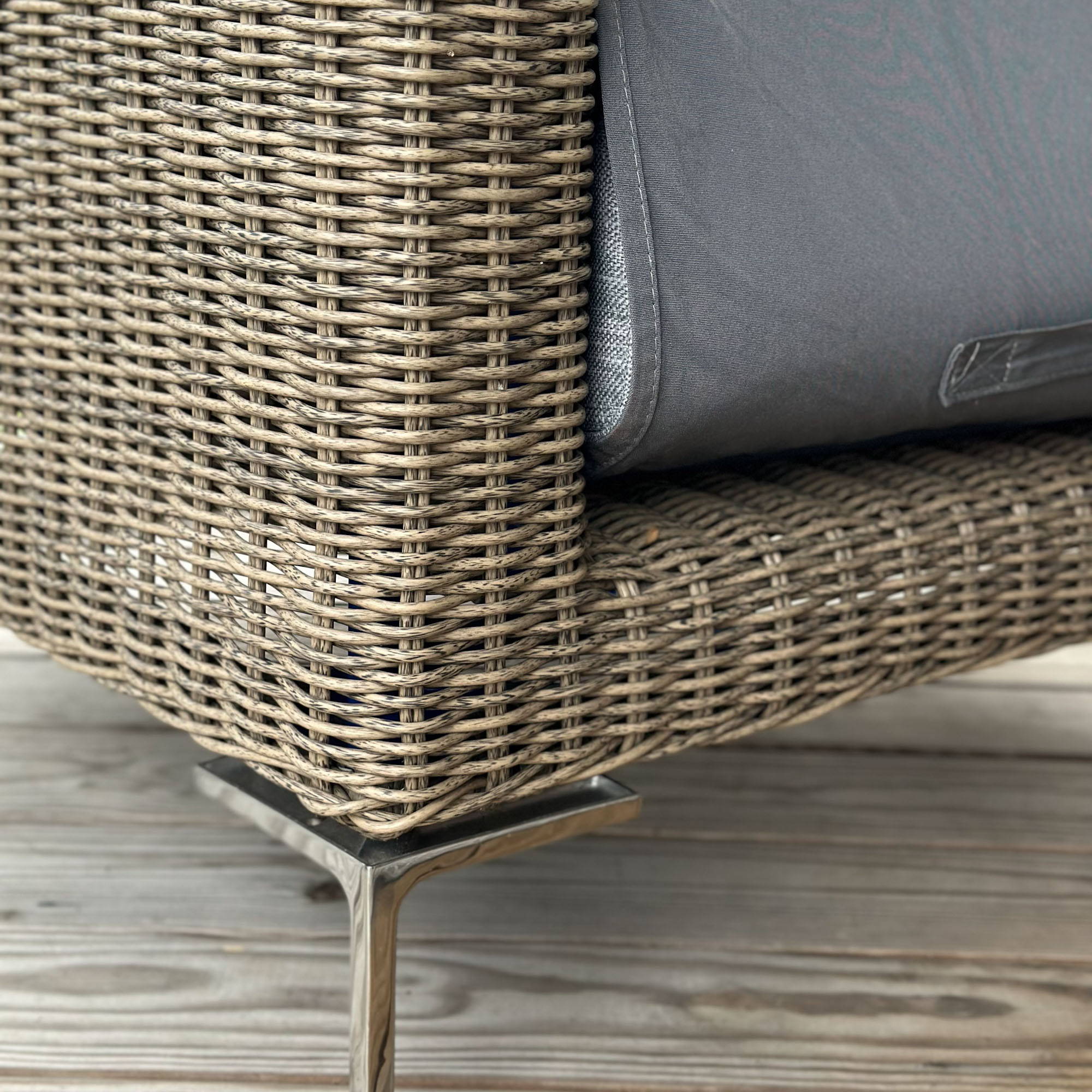 In an era where sustainability is paramount, Outer goes above and beyond to create furniture that's eco-friendly and responsible. Here's how they contribute to a greener planet:
Recycled Materials: Outer uses recycled ocean-bound plastic in their wicker construction, helping to reduce plastic waste in our oceans while creating durable and beautiful furniture.
Minimal Waste: Their manufacturing process minimizes waste, with a commitment to using every piece of material efficiently.
Longevity: By creating furniture that stands the test of time, Outer reduces the need for frequent replacements, which, in turn, decreases environmental impact.
Comfort is key when it comes to outdoor furniture, and Outer's cushions do not disappoint. The cushions are equipped with a unique "OuterShell" that can easily be rolled and tucked away in the cushions when you're ready to use them. They fasten under the cushions with velcro and provide amazing protection from the elements.
Plush Cushioning: Sink into the deep, plush cushions and feel yourself relax as you enjoy your outdoor oasis. These multi-layered memory cushions are not only stylish but also incredibly comfortable. They use NASA developed materials to regulate body temperature. How amazing is that?


Water-Resistant: The cushions are designed to repel water, stains, mold and fading. You won't have to worry about soggy seating after a sudden rain shower.

Versatile Design: Outer's modular design allows you to customize your outdoor seating to fit your needs, ensuring that everyone can enjoy the ultimate level of comfort.

We chose Pacific Fog Grey cushions for our set along with Outer's beautiful hand-crafted teak coffee table - each table is one of kind. We styled the space with the Sand Dune Beige rug, made with recycled water bottles and the stunning Bug Shield blanket in Striped Plaid (and yes, it really does repel mosquitos)!



Outer's all-weather wicker outdoor patio furniture is a remarkable choice for those seeking quality, sustainability, and comfort in their outdoor space. By investing in this collection, you're not just enhancing your outdoor living experience, but also making a responsible choice for the environment. Elevate your outdoor oasis with Outer, and you'll be enjoying the great outdoors in style for years to come.