Easy Way to Line Drawers with Double-Sided Tape
There is no better surprise than opening up a drawer on a freshly refinished piece of furniture to find a fun pop of color or pattern! While it's totally option, learning how to line drawers is a great skill to have in your tool box when leaving the interior drawers natural just isn't an option. Don't get me wrong, I love a natural wood interior, but many vintage drawers have stains or are downright ugly! In these cases, thank goodness for the magic of paper lining!
Lining drawers really elevates a piece and adds that extra, luxurious touch. Like icing on the cake!
There are lots of creative ways to line drawers, but this double-sided tape technique is my favorite to ensure the paper lays flat with no crinkles. If you've ever hung wallpaper you know how maddening the bubbling can be, but with this easy way to line dresser drawers a smooth final product is almost guaranteed! It's also much easier to remove the lining with this technique in the event the paper becomes damaged, dirty or you simply want a change in style. It won't leave you with a sticky residue when removed or compromise the interior wood if you change your mind later.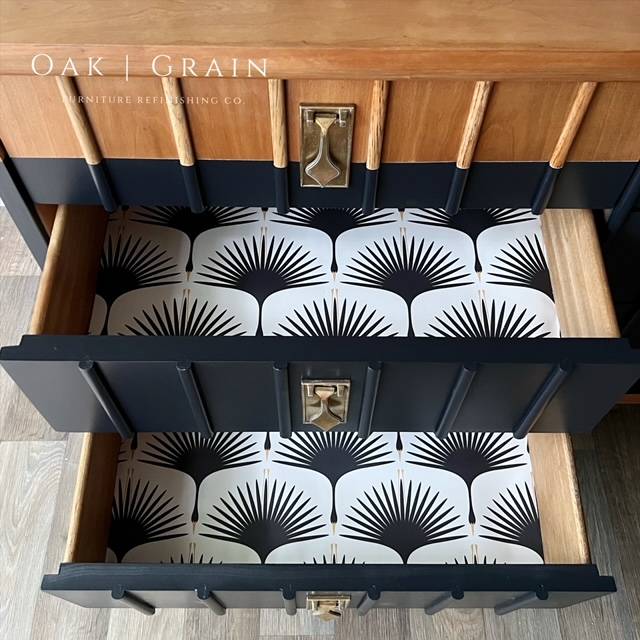 - Paper (wallpaper or wrapping paper)
- Cleaning product (I used Krud Kutter)
- Lint free cloth
- Measuring tape
- Straight edge
- Pen or pencil
- Scissors or rotary cutter
- Razor blade
- Double sided tape
Using your cloth and cleaning product clean the inside of the drawers. A clean slate will ensure proper adhesion.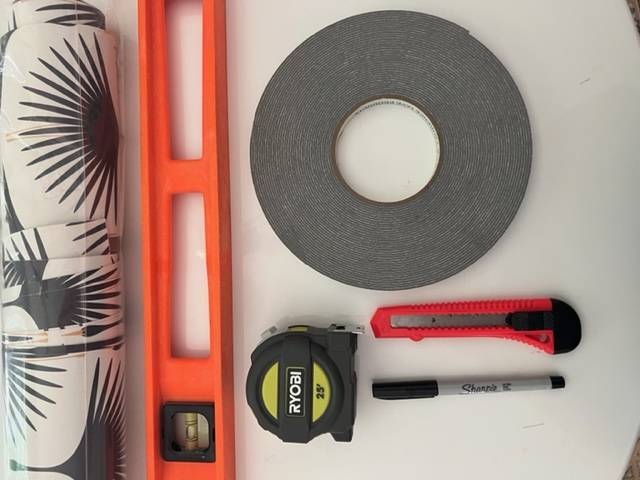 There are a few options on materials to use – wrapping paper, wallpaper or even fabric all act as great drawer liners. In my experience, the best material to line drawers with is a heavier, stiffer paper.
Carolina Furniture Collective blog is reader-supported. When you buy through links on our site, we may earn an affiliate commission. Please review terms of service.
Using your measuring tape, measure the inside of the drawer. Transfer the measurements to the back side of the paper using your straight edge and pen.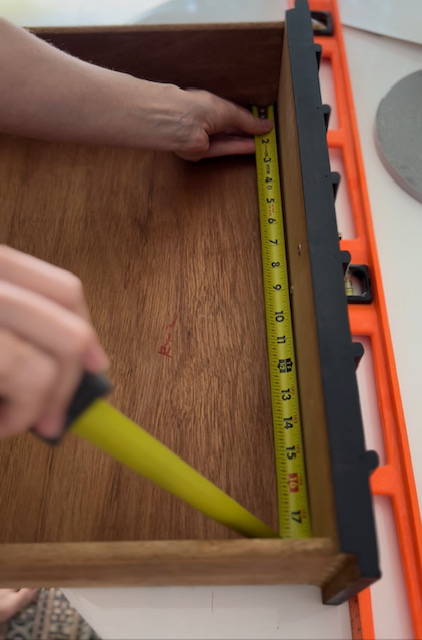 Then cut the paper with the scissors or rotary cutter.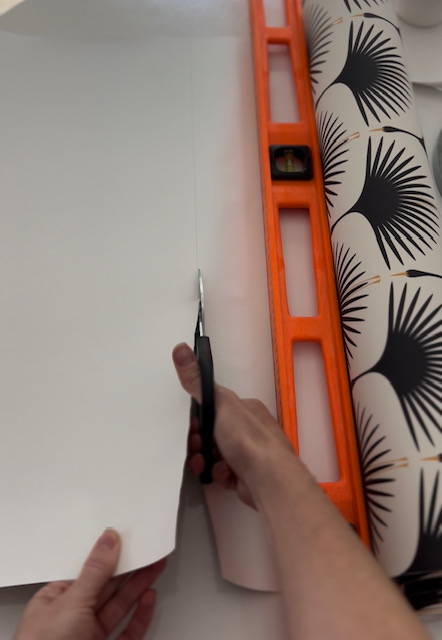 5. Apply Double-Sided Tape
Apply the double-sided tape on the longest edges. I personally like this double sided tape for lining drawers. The foam gives it a little cushion which just feels nice.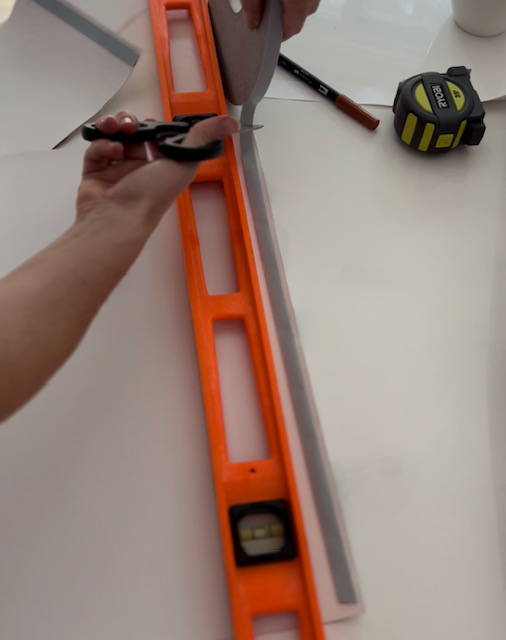 If you're using wallpaper DON'T REMOVE THE BACKING. The double sided tape will act as all the adhesion that you need. This makes it so much easier to keep the paper smooth when installing and also easier to remove if the paper ever becomes damaged, stained, or you simply want to change up the style.
Not all drawers are perfect right angles. If the paper is a tad too long in one place, simply take a razor blade and run it along the edge to trim off any excess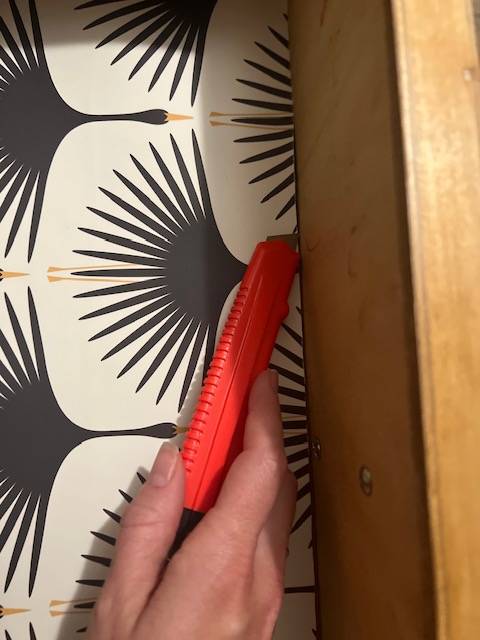 There you have it! An easy way to line drawers with wallpaper or wrapping paper. Now go pick out some fun, coordinating paper & get lining.
Looking for some drawer liner ideas?
I've linked some of my favorites sources below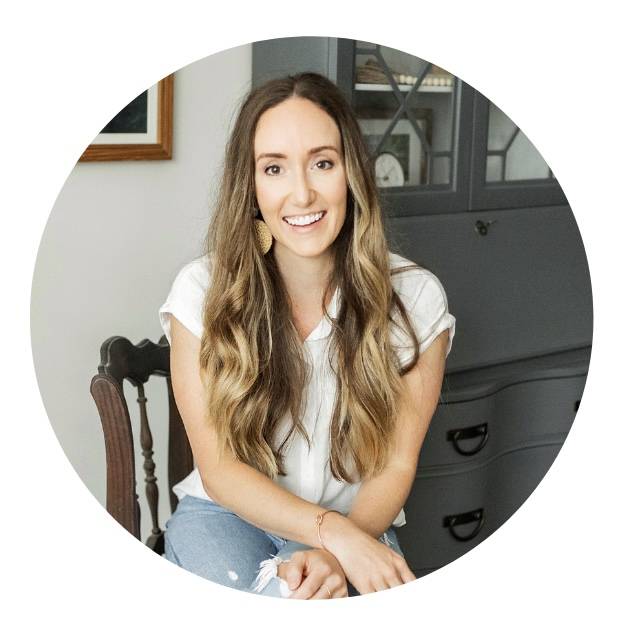 I'm Jess, the creator of Oak | Grain and member of the Carolina Furniture Collective. A mid-west girl at heart who now resides in Raleigh, NC. I love finding old things & giving them new purpose by way of refinishing or incorporating unexpected, overlooked thrift store finds in the modern home. I work full-time in medicine & I love dipping into my creative side by transforming furniture and in the process, keeping my sanity. Follow me on Instagram @oakandgrain_refinishing and Oak | Grain by Jess on YouTube to see more behind the scenes action.